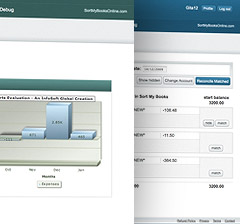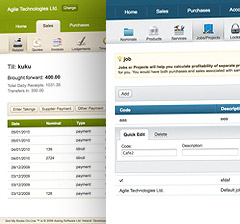 Privacy Policy
A. Definitions.
The following terms shall have the following meaning throughout the Terms of Service.
i) The terms "Aisling Software Ltd.", "we", "us" shall refer to Aisling Software Ltd. and all its affiliates.
ii) The term "subscriber" refers to any person who maintains an account with us for keeping financial information entered or provided by such person.
iii) The term "you" and "user" shall refer to the subscriber and any person who visits this site for a legitimate purpose.
iv) The term "applicable law" refers to the law currently in force in Republic of Ireland and which shall govern this agreement.
v) The term "system" shall refer to the online accounting software platform provided by Aisling Software Ltd. and shall include the software running such platform as well as content.
B. General.
This Privacy Policy outlines how Aisling Software Ltd. and its affiliated websites collects data from users on this website, and how it uses such information, and the scope of the discretion such users have as to the collection, correction, transmission, retention or use of the information. It is the policy of Aisling Software Ltd. and all its affiliates to keep any information gathered through the use of this website strictly private. As such, user's information shall not be disclosed or shared with unauthorized third parties except in the manner provided for by this privacy policy and the law. We at Aisling Software Ltd. are committed to openness and integrity which has helped us to maintain lasting business relationship with our customers, and the privacy policy outline has been instrumental in that regard. Whenever words like "Aisling Software Ltd.", "we" or "us" are used in this private policy, they refer to Aisling Software Ltd. and its affiliates.
C. PERSONALLY IDENTIFIABLE INFORMATION.
Once a user visits our sites, he/she has the opportunity to contact Aisling Software Ltd. staff for purposes including but not limited to inquiries on any of our products that they may want to purchase or may already have. Whilst submitting all kinds of inquiries, users may be asked to submit information that can be used to identify them, and this might include a name, phone number or email address. Aisling Software Ltd. would like to stress that such information is to be received in strictest confidence and will not be sold to or disclosed to or shared with third parties or any other unauthorized person except in the manner that is provided in this privacy policy.
Aisling Software Ltd. retains the right to inform users about any change in their administrative policy that may affect the information on users that is stored in our database. Aisling Software Ltd. may be required to disclose users' information in compliance with a lawful court order or any governmental regulatory requirement. We may also disclose information to our lawyers in connection to any legal proceedings or in line with the business practices that are geared towards quality control and maintaining sound systems operation.
Aisling Software Ltd. may use contact information provided to contact the user about any aspect of their account, or about a product that in our judgment we think might interest a particular user, or to inform the users about an impending downtime or upgrade, or invite the user to a service related survey. Should you decide to stop receiving such notifications from us, you may proceed to edit your account preferences accordingly.
Whereas Aisling Software Ltd. is not currently anticipating any changes in its corporate status, should we be subject to a successful takeover bid, or a merger, or significant portion or our assets are alienated or sold to a third party, Aisling Software Ltd. may disclose, transfer or sell to the surviving or acquiring entity respectively. Personally identifiable information collected online remains subject to promises made in the Privacy Policy.
D. SUBMISSION OF USERS' DATA.
Aisling Software Ltd. provides an accounting system called Sort My Books Online accounting whose functionality necessitates intake and retention of financial information of individuals or businesses and legal entity (hereinafter referred to as "Subscribers") as the information is provided or entered by such subscribers. The financial system will only retain information that is provided entered or imported by subscribers or their duly constituted agent(s). The financial information provided or entered by a subscriber remains the property of such subscriber and Aisling Software Ltd. will not share, sell or otherwise make available such information to unauthorized persons. Any disclosure to a third party shall only be made with the consent of the subscriber.
E. CONTROL OVER SUBSCRIBERS' DATA.
Any data provided or entered by the subscriber belongs to such subscriber and as such, the subscriber has control over who has access to such information. Only users approved by the subscriber will have access to the data. Safeguard measures to ensure authorized access include the use of a username and a password. The subscriber has the obligation of keeping the password and username safe as well as making sure that any person who has access to view such private information is permitted to do so.
F. MONITORING OF SYSTEMS USAGE.
We at Aisling Software Ltd. may use the information on subscribers for our internal purposes including but not limited to, preparation of billing information and monitoring of server and system performance.
We may also display advertisements on this site using the aggregate and anonymous information that we have gathered through this site. We may use such aggregate information to display tailored advertisements that are targeted to the kind of audience that a subscriber belongs to. This does not in any way negate our pledge not to share personally identifiable information with any person without the subscribers consent.
G. TRANSACTIONAL INFORMATION.
Subscribers may sometimes be required to enter sensitive information appertaining to complete a transaction through this site. Such information may include credit card information or bank account details. It is our policy at Aisling Software Ltd. to secure information submitted in that way in accordance to industry standards and proprietary measures. Aisling Software Ltd. is compliant with the Payment Card Industry (PCI), an industry standard regarding credit card data. For more information on PCI standards, please visit https://www.pcisecuritystandards.org/.
Aisling Software Ltd. may use the personal and payment information provided by you for its own internal business purposes. Also, in order to provide the Sort My Books Online service, it may be necessary that Aisling Software Ltd. also forwards certain personal and payment information provided by you to third party banking and credit institutions or fulfilment partners and other intermediaries. Aisling Software Ltd. may also disclose your information where permitted or required by law. Your continued use of the service constitutes your consent to such disclosure of information.
H. CHANGES IN THE PRIVACY POLICY.
Aisling Software Ltd. reserves the right to make changes, and/or review all the covenants contained in this agreement without prior notice to users and/or subscribers. Significant efforts will be made to make available any changes to this privacy policy, and the subscribers will be notified by email or any other appropriate means of any such changes. We shall also post any changes to this privacy policy.
Whilst we at Aisling Software Ltd. will take all reasonable measures to ensure the integrity of sensitive data submitted in the manner provided for by the terms of service and the privacy policy, as well as any other agreements that may be reached between us, we shall proceed to contact the subscribers in the event that we cannot guarantee such integrity. In such an event we shall contact the subscriber by email or any other appropriate means. We shall also post the privacy policy on our website in a manner that the policy can be easily accessed.
I. USE OF COOKIES.
Information may also be collected through the use of cookies, which are small files stored by the browser to enhance privacy as well as to facilitate smooth web navigation. Aisling Software Ltd. encourages subscribers to enable cookies on their browsers, but stresses that any information collected through the use of cookies is treated as private data and will not be disclosed to third parties.
J. GOVERNING LAW AND HIERARCHY.
This Privacy Policy shall in all respects be governed by and interpreted, construed and enforced in accordance with the laws applicable in Republic of Ireland without any regard to a conflict of laws provision, and the parties hereto irrevocable submit to the exclusive jurisdiction of the courts of the Republic of Ireland.
K. CONTACT US.
Subscribers may contact us to make enquiries or to the accuracy of their personally identifiable information and to request the update, correction or deletion of such information should they wish to do so. Any query, comments or concerns can be sent to us by email at support@sortmybooks.com or by postal mail at the following address:
Aisling Software Ltd.
Unit 3, KTI Centre
Deer Park
Killarney
Co Kerry
Ireland
V93 P83F